Laurence Girolami
Maître de conférence
Geophysicist - Dynamics of geophysical mass flows
Rheology and dynamics of sub-marine avalanches, Project MAGIC (''Modélisation Analogique de Glissements et Incision de Canyons'', Funding : Région Centre-Val de Loire, Principal Investigator).
Evolution of a river bed under extreme conditions, Project STAR (''Sediment Transfer in Anthropized Rivers'', Funding : FEDER-AELB, Principal Investigator).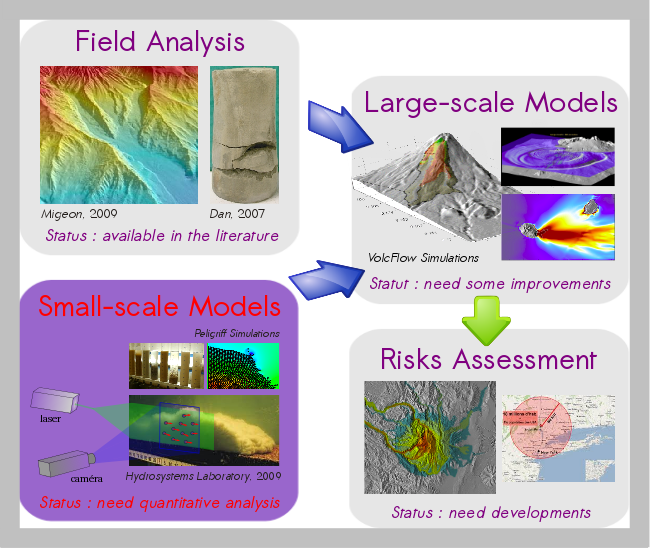 Different steps of the projects combining small- and large-scale modeling.
- DR. Frédéric Risso (CNRS Researcher, Physicist at IMFT, Toulouse).
- Ahmad Amin (Master Degree at LEGI, Grenoble, PhD Student at GéHCO).
- Dr. Romain Morini (Physicist, Research Engineer at GéHCO - Now : Post-doc at LPMC, Nice).
- Florian Godet (Research Engineer at GéHCO - Now : École des Mines de Saint-Etienne).
- Killian Conan (Undergraduate Student at the Department of Geosciences, Tours).
> Research interests : Explosive volcanic eruptions, Avalanches, Dunes
Dynamics of gas-fluidized granular flows (i.e. explosive volcanic eruptions such as pyroclastic flows)


Dynamics of dry granular flows (i.e grain-avalanches)

Dynamics of liquid-sheared granular flows (i.e. evolution of sand ripples and dunes)

Numerical, experimental and theoretical modeling of dry, gas-fluidized and liquid-sheared granular flows.
Field Activities
The dynamics of lahars and mufdflows on the Prêcheur River (Montagne Pelée, Martinique)

Understanding the detachment processes developed in pyroclastic density currents (Mt Unzen, Japan)
Reconstitution of explosive eruptions from ignimbritic deposits (Villarica, South-Andes, Chili)
Dynamics of active plumbing systems (Vesuvius and Aeolian Islands, Italy)
> Teaching activities
The Physics of Earth Interior

Physical volcanology

Coastal & Marine Geosciences (Dynamics of continental margins)

Natural Hazards (Short-lived gravity-driven flows)
* Responsability of the 1st year of the Bachelor's Degree (Licence 1)
> Collective achievements
2018: Scientific Commitee Member of "1st International Symposium on Mechanics" (Aberdeen, UK)

Reviewer for Physics of Fluids, Applied Mathematical Modelling, Int. Journal of Multiphase Flows
Workshops at "Fête de la sciences"
2016 : "Walking on a fluid surface ?" (i.e. The surprising behaviour of non-newtonian fluids)

2015 : "The physics of a sand heap" (i.e Granular matters : between fluids and solids)

2014 : "Small is beautiful" (i.e. Dynamics of micro-rivers
2014-2012 : Postdoc (Fluid Dynamics) at "Institut de Mécanique des Fluides de Toulouse" (IMFT), with F. Charru & J.D. Sherwood at "Department of Applied Mathematics & Theoretical Physics" (DAMTP, Cambridge, UK).

2012-2011 : JSPS Fellow (Volcanology) at "Geological Survey of Japan" (CSJ, Tsukuba, Japan), with S. Takarada and at "Center for Geohazards Studies" (CGS, Buffalo, USA), with E.S. Calder.

2011-2010 : Assistant Professor (Geosciences) at "Géosciences et Environnement" (GEC, Cergy).

2010-2009 : Postdoc (Solid Mechanics) at "Institut Français du Pétrole" (IFP, Paris), with A. Wachs.

2008-2004 : PhD (Volcanology) at "Laboratoire Magmas et Volcans" (LMV, Clermont), with T.H. Druitt.

2004-2003 : Master (Geophysics) at "Institut de Physique du Globe de Paris" (IPGP), with C. Jaupart.
L. Girolami, J. D. Sherwood and F. Charru (2016) Dynamics of a slowly-varying sand bed in a circular pipe, International Journal of Multiphase Flows, 81, 113-129.

L. Girolami, T. H. Druitt and O. Roche (2015) Towards a quantitative understanding of pyroclastic flows : Effects of expansion on the dynamics of laboratory fluidized granular flows, Journal of Volcanology and Geothermal Research, 296, 31-39.

G. F. Bertrand, H. Celle-Jeanton, F. Huneau, A. Baillieux, G. Mauri, V. Lavastre, G. Undereiner, L. Girolami and J.S. Moquet (2015) Vulnerability of volcanic aquifers : evaluation of contaminant transfer and hydrodispersive parameters in basaltic lava flows through an artificial tracer test and implications for long-term water supply management, Open Geosciences, doi:10.1515/geo-2015-0037.

L. Girolami, A. Wachs and G. Vinay (2013) Unchannelized dam-break flows : effects of the lateral spreading on the flow dynamics, Physics of Fluids, 25, doi:10.1063/1.4799 129.

A. Wachs, L. Girolami, G. Vinay and G. Ferrer (2012) GRAINS3D, a flexible DEM approach for particles of arbitrary convex shape : numerical model and validations, Powder Technology, doi :10.1016/j.powtec.2012.03.023.

L. Girolami, V. Hergault, G. Vinay and A. Wachs (2012) A Three-dimensional DEM for the simulation of dam-break granular collapses : comparison between numerical results and experiments, Granular Matter, doi:10.1007/s10035-012-0342-3.

L. Girolami, O. Roche, T. H. Druitt and T. Corpetti (2010) Particle velocity fields and depositional processes in laboratory ash flows, with implications for the sedimentation of dense pyroclastic flows, Bulletin of Volcanology, doi:10.1007/s00445-010-0356-9.

A. Wachs, G. Vinay, G. Ferrer, J. Kouakou, C. Dan and L. Girolami (2009) PeliGRIFF : a parallel Discrete Element Method-Distributed Lagrange Multiplier/ Fictitious Domain for a direct numerical simulation of particulate flows with collisions, International Journal of Mechanical Systems Science and Engineering, 1 (4), 185-191.

L. Girolami, T. H. Druitt, O. Roche and Z. Khrabrykh (2008) Transport and hindered settling of laboratory ash flows, Journal of Geophysical Research, 113, doi:10.1029/ 2007JB005074.